VedicRoots (by ComsoVeda Herbals Private Limited) is a contemporary skincare brand dedicated to creating cruelty-free botanical products expertly crafted in a safe, skin-healthy way.
Our goal is to not only provide toxin-free beauty solutions but help people to feel beautiful, nurtured, and self-empowered.
Explore our complete product range to indulge in some of nature's greatest treats and let your inner beauty shine on the outside as well!
Our Belief
As passionate believers in the healing power of nature, we aspire to reconnect people to nature and support them in their healthful and holistic skincare journey.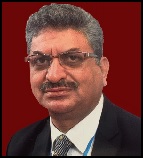 Mr. K.K. Kalia (Founder & Director)
We believe that skincare derived directly from Nature's bountiful resources is one of the best ways to nurture and sustain healthy, vibrant skin. With our botanical skincare line, we aspire to provide the purest, toxin-free products that empower people to take the best care of themselves.
Pure & Pampering Products
Offering great results, our naturally effective product range is designed to not only improve skin's surface, but also strengthen it from within.
Safe & Natural Ingredients
Made with authentic, potent extracts from the finest natural ingredients, our products are safe to use, kind to the planet and never tested on animals.
Incredible Quality & Value
Being passionate about giving you the very best, we are committed to providing you with the highest quality at the best prices.
We provide premium quality pure botanical products to nourish and pamper your Skin, Hair & Body. Made with the finest quality, scientifically proven, plant-based ingredients, our products are free from harmful chemicals and animal testing. Our toxin-free formulas work wonders on all Skin and Hair types. We also offer a complete line of Professional Care range for Salon & Spa treatments.